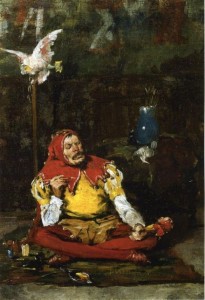 Attentive readers may have noted yet another shift in recent posts. Beginning with Marx on the theft of wood and then onto the Warwick crew (E.P. Thompson et al) on all sorts of illegal communal actions, the blog will be turning toward the outlaw geographies of "Motley Crews": commoners, pirates, bandits, and all other sorts of fugitive tricksters.
From there, I'll wade into the dialectics of political violence by focusing on insurgency and counter-insurgency, followed up by a series of texts on what I'm calling "seeing like a mafia"—that is, the intricate relations between mafias and state development. That will help me end up on the more general shore of global criminal networks, particularly the trafficking of illegal goods and money.
Your humble correspondent, kind readers, will be reporting (more religiously) from a countryside hammock, meaning that posts—though probably written daily—will be published online in batches with slightly less frequency. The latter depends entirely on the mood of my trusty stead, a.k.a. "El Rucio," who has a somewhat sour and lazy disposition.
Thankfully, there are indeed still places in the world without Internet access.