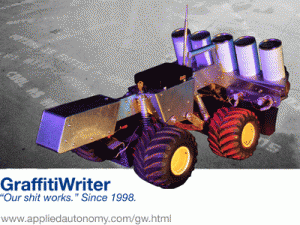 My first post on the "New Aesthetic"—that weird, sometimes unsettling irruption of digital phenomena into real life, particularly into our visual culture—described it as a "structure of feeling," a term coined by cultural critic Raymond Williams. For him, a structure of feeling described a historically situated general lived experience, but one "as firm and definite as 'structure' suggests, yet [operating] in the most delicate and least tangible part of our activities." The New Aesthetic is an assertive attempt to highlight the diffuse processes through which digitalia has seeped into and out of our everyday life. And then there's drones, "the robotic killing machines" of the New Aesthetic. Technology, of course, can always cut both ways. I've talked about drones and protest before. And now: "The advent of next generation military/police technologies for urban use has made engaging in active social insurgency an increasingly risky venture." Enter: the Institute for Applied Autonomy's graffiti drone.
This "tele-operated field programable robot which employs a custom built array of spray cans to write linear text messages on the ground at a rate of 15 kilometers per hour. The printing process is similar to that of a dot matrix printer. GraffitiWriter can be deployed in any highly controlled space or public event from a remote location."
Gotta love it. The fact that the GraffitiWriter drone reapplies the retro-tech of the dot-matrix printer (remember those?) in writing graffiti on its 15km/hour commutes is icing on the cake. The Institute for Applied Autonomy (IAAs) website cheekily says it all:
The Robotic GraffitiWriter (GW) was developed in response to the need for a high speed, teleoperated, portable platform that operates beyond the line of sight (BLOS) to disseminate unsanctioned content in the dynamic adversarial urban environment. In repeated testing, this system has proven its effectiveness on such high risk/high profile targets as the U.S. Capital Building as well as numerous urban commercial and municipal spaces in the US and abroad.
The closing paragraph adds:
"Studies have shown that in nearly 100% of the cases, a given agent of the public will willing participate in high profile acts of vandalism, given the opportunity to do so via mediated tele-robotic technology."

– IAA research division
Graffiti drone: The New Aesthetic at its best. The IAA has more to say about contestational robotics. See more from IAA in its promotional video:
(Upcoming third and final post on the New Aesthetic will discuss the materiality of the network.)