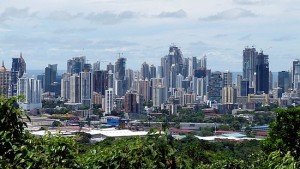 (Final post in a three-part series, Part I, Part II) 
The policies that have made Panama into a commercial and financial global entrepôt have also made this small country into an ideal beachhead for entrepreneurial narcotraffickers. The seemingly ethereal nature of underground economies and high finance becomes staggeringly concrete in this offshore paradise. It's written on the landscape. The city of Panamá has been the site of an unprecedented construction and real estate boom, a speculative bubble buoyed by narco-dollars. Speculation and spectacle become symbiotic in this tropical metropolis as they comingle with hyper-urbanism, money laundering, and circuits of capital at multiple scales. The same thing happened in the Miami of the 1980s—watch Cocaine Cowboys, an amazing documentary. I think one trafficker in the film even says, "We built this city."
The opening of the canal in 1915 secured Panama's position as a powerful commercial hub. Forty years later, taking advantage of the ship traffic, the government opened the Colón Free Trade Zone, the world's second largest after Hong Kong's. Profits and the credit-backed trade through the zone generated a thriving banking sector. Geographer Barney Warf writes: "So close were the original relations between banking and shipping that it is impossible to conceive of the emergence of Panama as a financial centre in the absence of the Canal." In the 1970s, the country became a fully deregulated offshore banking paradise thanks to a Chicago-trained student of Milton Friedman's (of course!) named Nicolás Barletta. Today, another credit-hungry sector is helping float the bottom line at the banks: urban real estate and construction.
Panamá City is booming. The city is one massive construction site, and the skyline, towering over a small bay of the Pacific Ocean, remains completely crowded with construction cranes (click on image above for a closer look). A secret cable from the U.S. Embassy from 2007 uncovered by Wikileaks claims:
Panama's construction boom, prevalence of offshore corporations, and status as a regional financial center provide a conducive environment for money laundering. Amid speculation as to the source of financing and demand for Panama's real estate boom, a review of information available at post indicates that several current developers have a history of criminal activity or criminal associations.
The cable then gives a list of local developers and real estate investors with ties to drug trafficking and money laundering. Panamanian authorities told Embassy officials that they simply didn't have the budget to investigate and regulate the industry. But if they did, they said, "[The] first priority would be investigating who are behind Panama's new high rise buildings."
Indeed, more than 150 buildings of 20 stories or more are in the process of being built, wracking up double-digit growth in the construction sector. About 20,000 high-end, luxury condo units are slated to enter the real estate market. All of this in a metropolitan area with just over one million inhabitants—more than a third of which live in grinding poverty. "Ultimately, real estate projects financed by the proceeds of criminal activity distort the market for legitimate developers and create excess supply," says the cable. The first time I visited Panama, I had read about this and remember looking up at the residential high-rises at night and there were barely any lights on inside. Buying property in Panama City apparently has little to do with having a place to live.
Another indicator for the role of narco-capital is how well the city's building boom fared during the global economic meltdown. In the first eight months of 2008, construction spending grew 52% compared to the same period in 2007. And by June 2009, the construction sector had grown an astounding 23% year-on-year—one of only two major industries in Panama experiencing growth that year. According to the cable, "The projected value of the real estate development market in Panama currently exceed that of the Canal expansion." But how much dirty money is involved in construction and real estate is anyone's guess, particularly since shell companies are legally allowed to purchase properties, making their sale and ownership virtually anonymous affairs.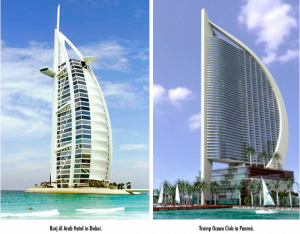 The skyline has become a strange mix of Dubai, Las Vegas, and Miami. And I'm pretty sure city boosters would be proud to be included in such company. Indeed, following Dubai's path, Panama is trying to become a city of superlatives—e.g. "the first," "the biggest," "the tallest" (Elsheshtawy 2009). In fact, the Trump Ocean Club—yes, Trump—looks so similar to the Burj Al Arab Hotel that the Dubai group threatened legal action.
Of course, some of these plans exist only on paper as architectural renderings; they are little more than aspirations. Some projects never materialize or become abandoned once they've served their laundering purposes, as happened with the half-built "Ice Tower." It was going to be the tallest residential building in Latin America and is now under investigation for narco ties.  But the image-conscious iconic architecture itself—whether on paper or on the street—helps feed the bubble. Speculation meets spectacle.
Spectacle sculpts the world in its own image—or, rather, into images. As Guy Debord noted, "Following its logical development toward total domination, capitalism now can and must refashion the totality of space into its own particular decor." Living values become purely abstract values, and in the process the city has somehow gotten away from us; it seems under the spell of its own internal (and inevitable) momentum.
The Embassy cable ends with a shrug, showing that speculation is a strange breed in a narco-economy:
Additional canceled projects [like the Ice Palace] as well as incomplete occupancy and decreasing prices are anticipated. However, the full impact may be softened, depending on the proportion of the real estate development and sales sustained by money laundering and therefore impervious to the need to demonstrate profitability.
The boom is also boosting Panamá's efforts toward becoming a corporate-diplomatic hub for Latin America and its broader aspirations to be a world-class city. On top of being what will soon be site of nine of the 10 tallest buildings in Latin America, Panamá is in the process of constructing a colorful Gehry-designed "Museum of Biodiversity," whose website (and tag-line!) loudly claims, "The first building designed by Frank Gehry in Latin America." Mike Davis, eat your heart out.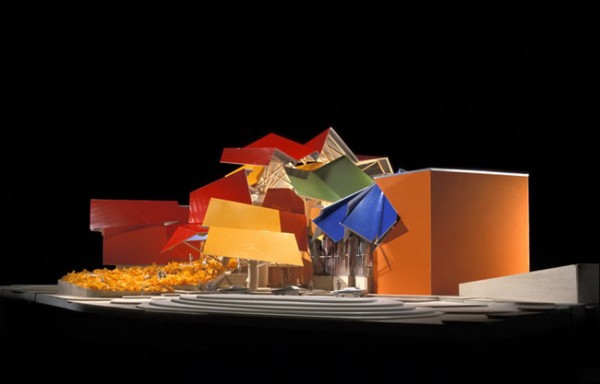 This is the final in a three-part series on narco-geographies. Part I was about HSBC and Global Money Laundering and Part II focused on the Political Ecology of the Drug Economy.