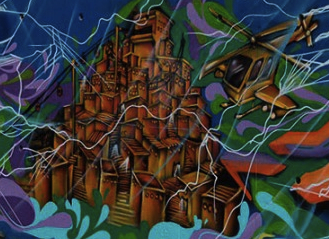 My article on hip-hop and violence in Medellín is now out:
Héctor Pacheco walked down the steep hillsides of his barrio in Medellín, Colombia to wish his aunt a happy birthday. Pacheco—a local rapper nicknamed "Kolacho"—had spoken at a public event the week before, calling on neighborhood youth to use hip-hop as an instrument for non-violence. As Kolacho began the slow climb back home, gunmen from a motorcycle riddled his body with bullets. He was 20 years old.
"That was one of the hardest blows I've ever had to deal with," says Jeison Castaño, or "Jeihhco," a fellow rapper and band mate of Kolacho. Since Kolacho's death in August 2009, nine more young hip-hop activists have been murdered in Medellín. "Being young in this city is a risk in itself," says Jeihhco. "And being a rapper—out in the streets all the time like we are—is even riskier."
The violence against hip-hoppers demonstrates the lingering contradictions in a city that has gained global notoriety for its urban security makeover. In the 1990s, international press coverage labelled Medellín the "murder capital of the world," but with a dramatic drop in violence over the years, headlines began touting the "Medellín Miracle." Today, the city is nowhere near the violent depths of its past, but things have once again started to unravel and the miracle has lost some of its shine.
The rest of the story (with photos) is available on openDemocracy's site.