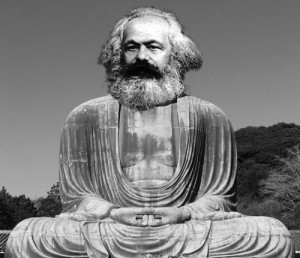 "Occupy Buddhism: Or Why the Dalai Lama is a Marxist" by Stuart Smithers sort of speaks for itself, doesn't it?
Against the Grain, a radio show of KPFK in Berkeley, had some interesting downloadable interviews with Jonathan Nitzman on his co-authored book on capital as power and with geographer Aaron Bobrow-Strain's on his new book about White Bread. The Legacy of Rosa Luxemburg is another great interview.
Despite drones and cyberwar, Derek Gregory shows why concrete, material logistics still matter with the article "Supplying War in Afghanistan: The friction of Distance" in openDemocracy.
A good critical review of David Graeber's Debt taking to task his blurring of political-economic categories and, relatedly, for not taking into account the uniquene social relations of capitalism.