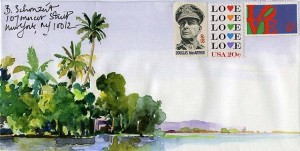 Imagine a segregated road system where color dictates which roads you can drive on. This infographic from Visualizing Palestine offers a typology of segregation for Israel's roads in the occupied Palestinian territories.
Jared Diamond's review of Why Nations Fail, made my head explode. Parroting his buddies who wrote the book and channeling Paul Collier, Diamond says the reason nations fail is because of bad institutions, but really it's all about geography: Tropics = #fail.
Among the many deprivations faced by the poor in cities around the world, we can now add trees. Trees! Tim De Chant tracks how income inequality is reflected in urban tree distribution, which is even visible from space. (↬ Social Design Notes)
Slavoj Žižek calls for solidarity with Greece, which he says is poised to become a "testing ground for a new socio-economic model of potentially unlimited application: a depoliticised technocracy in which bankers and other experts are allowed to demolish democracy." Or what capitalism simply calls "Wednesday."
Turns out that a collection of aerial pictures of the United States' booming prison archipelago is sort of sublime.