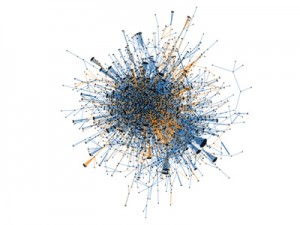 Michael Lima, founder of Visual Complexity, which I follow, makes a great addition to the RSA Animate videos with an animated talk on the power of mapping knowledge and patterns of information. Trees are soooooo last century. (ᔥ Explore)
I came across the journal Volume's new issue, which is on "Guilty Landscapes." From the Chernobyl "exclusion zone," to contributions "on landscapes transformed by mining industries, waste, human atrocities and more, as well as ways to atone for these criminal acts," it looks interesting.
Has it come to this? Grad students are sleeping in their cramped, windowless offices. Along with a post by my buddy Christian Anderson at Antipode, there's been a slew of press on the mounting poverty of student life.
With casualties from Mexico's Drug War now exceeding 50,000 in just six years—i.e. more victims than the Southern Cone military dictatorships put together—The Atlantic publishes this gruesome photo slideshow. (Warning: VERY graphic images.)
Finally, congrats to all those fans of Chelsea on their UEFA cup victory. I was rooting for you. Is there anything petrodollars can't do?