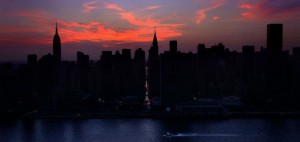 Guernica magazine published a great conversation between David Graeber and Rebecca Solnit, two people who I admire as genuinely original thinker-writers with ample street-cred to back it up. They talk mostly about debt, anarchism, and occupy. "Neoliberalism isn't an economic program," says Graeber, "it's a political program designed to produce hopelessness and kill any future alternatives." They claim that #Occupy has helped reclaim utopia for new generations by overturning the hegemony of the inevitable. They talk about the state as producing its own collective sense of necessity and inevitability—a Hobbesian logic underlying everything from WWII aerial bombing campaigns to disaster "management."
But as Solnit's brilliant and beautifully written work has shown, disasters do not bring out a panicky social Darwinism, but rather extraordinary forms of mutual aid. As one reviewer of her book Paradise Built in Hell describes, "[Solnit] would have us believe that the temporary societies that arise in disaster are revelations of a fundamental utopian impulse in human nature, which everyday (capitalist) life mystifies."
Graeber mentions the NYC blackout (also the day after 9/11) as another supposed "disaster" that turned the vast majority of hard-edged New Yorkers into "hippies" joining together, sitting on stoops, and even having drum circles. That beautiful summer day, I joined about 60 other neighbor-strangers in Hell's Kitchen and we had a block-wide impromptu rooftop party (no drum circle—no pulsing glare from Times Square either).
Asked where #Occupy stands right now, Graeber responds:
I think there was a real crisis period after the eviction. There was a lot of disruption; the larger meeting became incredibly dysfunctional for about a month. It's really gotten better, and people are starting to refocus. And I think people are getting really excited about things that are going to be happening.
Bonus quote from Graeber:
… David Harvey, not the British Marxist geographer-type guy, but David Harvey, the British Marxist economist, actually calculated how much time people in the U.K. spend on labor…
Being a British Marxist economist, can you imagine how many times this poor guy has had to say, "No, not THAT David Harvey…"
Thanks to Javier Arbona for the link.