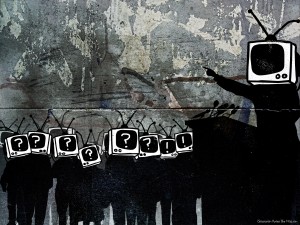 Anthropologist Arjun Appadurai recently published a column in Anthropology News on the proliferation of business-related news in U.S. media. He observes the "growing and now hegemonic domination of business news" both in print and on television. The business machine has hemorrhaged beyond the business section, invading all other "news" (Lifestyles, Travel, Sports, etc.) to the point in which the "Business" section itself "has now virtually become redundant." This reminded me of a conversation I had with my closest friend in which we noted the proliferation of workplace-related TV shows. But first, Appadurai's conclusion:
We have become (in our fantasies) entrepreneurs, start-up heroes, small investors, consumers, home-owners, day-traders, and a gallery of supporting business types, and no longer fathers, mothers, friends or neighbors. Our very citizenship is now defined by business, whether we are winners or losers. Everyone is an expert on pensions, stocks, retirement packages, vacation deals, credit-card scams and more.
We have become business junkies, says Appadurai, and though "we were always told that the business of America is business …. now we are gradually moving into a society in which the business of American [sic] life is also business."
I think a related trend can be spotted in some of the most successful TV shows in recent years. The workplace is the setting and work-as-life the dominant dramatic plotline.
Hospital dramas, cutthroat law firms, and the police/forensic genre all revolve around profession and workplace in which human relationships often play second fiddle. I pride myself as a connoisseur of crappy TV, which is where workplace hegemony reigns supreme, so I should know. But it is equally present in some of the better and successful shows. The stylish Madison Avenue drama Mad Men is a case in point. An argument could be made for The Office as well, though satire sits awkwardly with the point I'm making.
Even mafia or drug-related smash hits, such as The Sopranos, The Wire (my favorite), and Breaking Bad are at a basic level about the mundane trials and tribulations of laboring in the cat-and-mouse underworld of drugs and violence.
Appadurai's observation that we are "no longer fathers, mothers, friends or neighbors" rings particularly true on the airwaves. Compare the new shows with those of previous decades: I love Lucy, The Brady Bunch, I Dream of Jeannie, Leave it to Beaver, Good Times, Family Ties, 227, The Cosby Show, Roseanne, The Jeffersons, Growing Pains, Silver Spoons, Different Strokes, Alf, Married With Children (I could go on). The common denominator of these previous shows is that they were not about work; they were primarily about families and the setting was the household.
Even without taking into account the "reality" genre, which so often revolves around a "competition" between chefs, entrepreneurs, models, designers, or whatever—the ultimate prize is actually winning a job!—we have become a nation of workplace junkies.